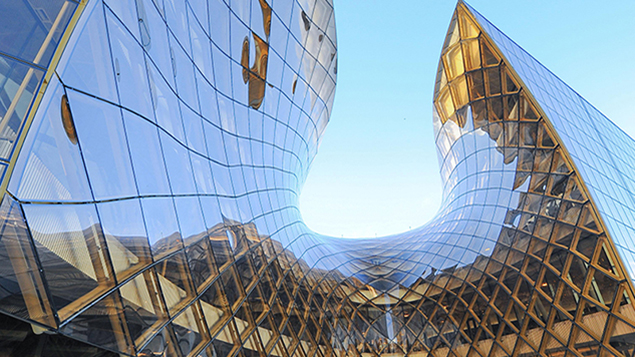 Program Director since 1998, as part of the team managing the development of the Klépierre group – a European specialist in business real estate and an investor who has mastered the design, management and development of its estate -, Anne Merkelijn, a government-licenced architect, manages the development of three projects in the north eastern region: 'It takes at least eight to ten years to finalise a project,' she explains. In fact, given the number of players involved in every phase of a project, Anne Merkelijn finds herself in a position comparable to that of an orchestra conductor: 'There is an entire part of the work which remains kind of invisible to the public because we work a lot in advance with local authorities, elected officials and town-planners'.
This doesn't even take into account the fact that no two operations are the same! In fact, in certain cases, Anne Merkelijn is responsible for acquiring land and thus designing a new project from scratch. In others, the architect might have to manage the extension of a site which is already part of the Company's portfolio. Klépierre Group has a presence in over 16 countries and owns more than 178 sites in Europe – this should already give you an idea of the significance of their property portfolio. Their estate on 31 December 2014 came to 21.4 billion euros.
The interpersonal side of her profession is essential. She works with people who perform a very wide range of duties. 'One minute I'm working with a trader…the next, an archaeologist!', she explains jokingly, and adds, acknowledging simply: 'What it comes down to is that I love meeting people I don't know, or whose professions are completely different from mine. For me, working with others is a must'. So what was the career path of this architect become program director who puts human relations at the heart of her professional concerns?
An education spanning Paris and Bangkok
Anne Merkelijn did not come to architecture by chance. It was the profession's concrete approach which seduced her: 'Designing living spaces for people is a truly useful activity' she clarifies. The quality of her pencil strokes and her ability to conceive three dimensional volumes push her definitively down this path.
As a student at the Paris Villemin School of Architecture (UP1), she specialises in projects in developing countries. Her degree work, carried out under the supervision of the Professor and town planner Charles Goldblum, concerns 'The major urban restructuring projects in Indonesia'. She defended this thesis in 1983.
Her course supervisor also offers her the opportunity to spend two years in Bangkok as part of a CNRS (French National Scientific Research Centre) assignment. She thus carries out a study on the terrain of a district of the Thai capital in collaboration with a multidisciplinary group of researchers. This group also goes on to strengthen the ties between Thai and French universities and trigger the creation of an anthropology department at a local university, the future beginnings of a Musée de l'Homme (French anthropology museum) in Thailand.
10 years of experience at CVZ
In 1985, Anne Merkelijn is back in Paris and about to take a decision which will influence the rest of her career – choosing to practice as an architect in a firm. For two years, she completes assignments for firms specialised in the design and production of major hospital infrastructures. 'I discovered that I really enjoyed working on major projects involving many people', she comments.
The experience she gained in developing complex buildings together with her knowledge of town planning catches the eye of CVZ, an architectural firm specialised in shopping centres. She stays with them for ten years. 'It's a great company which encourages young people lots and offers additional in-house training in architecture, building site supervision and financial project management,' explains Anne Merkelijn.
Whenever she is assigned a project, she becomes the client's only representative, and in this way quickly acquires an in-depth knowledge of the field. She also builds a solid and diverse professional network. Through responding to the requests of developers responsible for renovating and extending shopping centres, the architect discovers that she is particularly interested in Project Ownership as a profession.
Moving towards project ownership
In 1998, Anne Merkelijn reaches a definitive milestone by becoming Program Manager for the Klépierre account. Her work turns out to be extremely varied. 'No two days are the same,' she explains enthusiastically.
However, we can nonetheless distinguish three axes around which the activities inherent to her duties revolve: the work carried out in advance with local authorities, the operational management of the project (team organisation, architectural and technical project supervision) and the legal and financial arrangement and supervision of the project.
'As an architect, my perfect knowledge of the shopping centre tool is an advantage,' she clarifies, adding: 'At Klépierre, there are different profiles which contribute to the performance of the same duties. This regards engineers, legal experts, economists, town planners. As a result, each one can help the other depending on their original specialisations.'
What it takes to be a Program Director
When she is working with her colleagues, Anne Merkelijn reminds them regularly of the principles which govern shopping centres. 'As a developer, I know that there are types of shop spaces which we will not be able to rent out to a shopkeeper,' she explains. However, she gives them considerable freedom so that they can use their skills and show off their talent: 'If I didn't, they wouldn't be any point in hiring them.'
Anne Merkelijn believes that her current job requires both authority and lots of tact, and an energy and enthusiasm which must be used in conjunction with lots of perseverance and patience: 'The architect is quite well prepared for meeting these needs which can at first seem conflicting.'
Her references?
'I truly admire the work of Ieoh Ming Pei, Rem Koolhas and Christian de Portzamparc. Discovering new places, lifestyles and approaches to housing during my travels also influences me greatly.'
Photos: Emporia Shopping Centre (68,000 m2) in Malmö (Sweden), designed by the Swedish architect Gert Wingärdh.